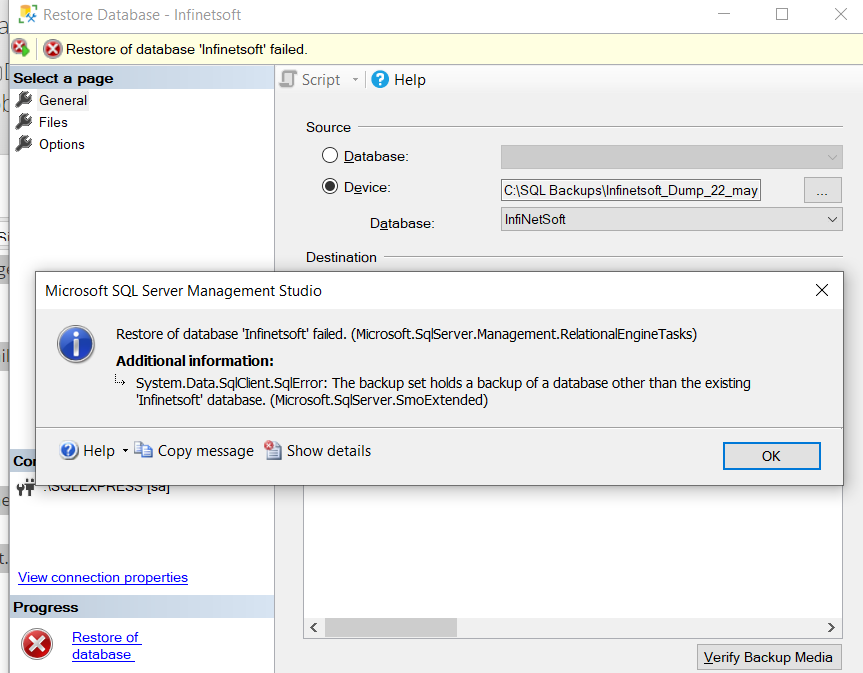 TITLE: Microsoft SQL Server Management Studio
------------------------------
Restore of database 'DATABASE' failed. (Microsoft.SqlServer.Management.RelationalEngineTasks)
------------------------------
System.Data.SqlClient.SqlError: The backup set holds a backup of a database other than the existing '
DATABASE
' database. (Microsoft.SqlServer.SmoExtended)
For help, click: https://go.microsoft.com/fwlink?ProdName=Microsoft+SQL+Server&ProdVer=16.100.46437.65+(SMO-master-A)&LinkId=20476
------------------------------
------------------------------
When I tried to restore the SQL database it was failed and got the above message.
Solution:
The same database name is already exists. So, I renamed it and then tried restore. Finally, it works fine.
The below video shows how to restore SQL server database database without this error.